Passenger breaks
Prepare a per person quote based on different group sizes or pax ranges e.g. 10-14; 15-19; 20-24 on a Twin or Double share basis.
Share staff costs (Guides, Drivers, Tour Leaders) between the paying passengers. Free of charge services (FOCs) are automatically applied where applicable.  

Single supplements, triple and child reductions
Quote single supplement, triple and child reduction prices in conjunction with passenger breaks.
Passenger configuration
Go to Tools (top right of the Bookings List) > Setup Group Configuration, the Groups Setup Window will appear. Specify the total number of Adults, Children and Staff per passenger break, and the configurations (Room Types) required for each. 
Itinerary builder
Build the Bookings List faster by checking the Service, then watch as Tourwriter auto-populates the Room Types and Adult / Child options instantly.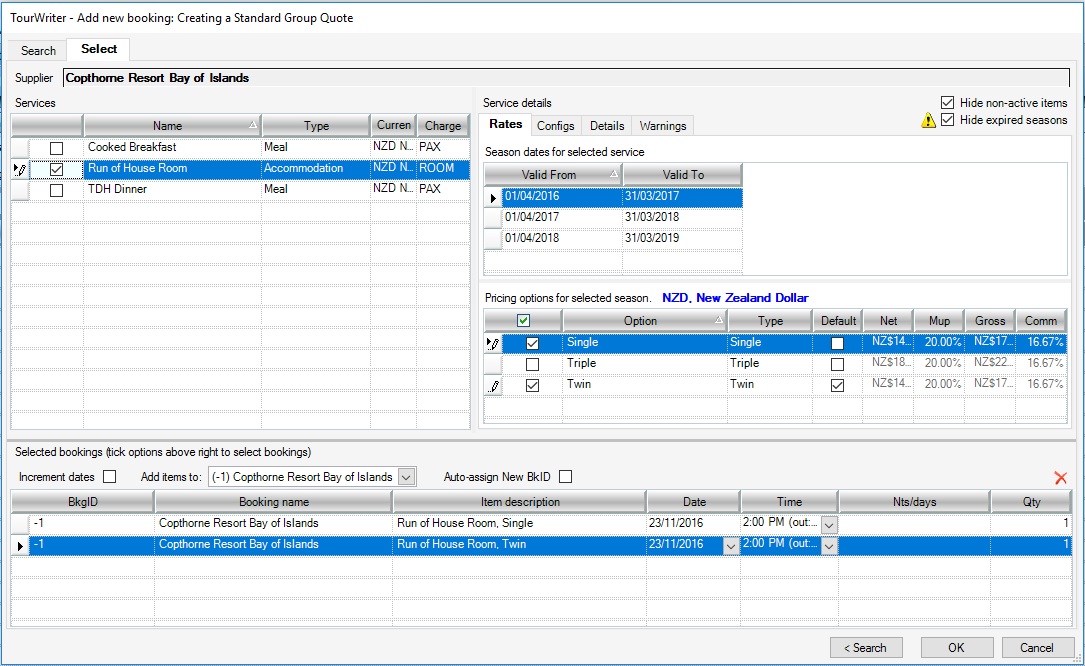 Bookings updater
You've quoted on Twin share with a Single supplement, but your client would now like to know the cost per person based on Triple share. As your clients' needs change, quickly update your Passenger configurations with the click of a button. Remove bookings for unnecessary room types, refresh booking passenger and staff quantities and create bookings for new room types.
Update quantities
Update booking quantities as passenger numbers change throughout the quoting or booking process. Go to Tools (top right of the Bookings List) > Update Booking Quantities, the Updated Quantities Window will appear.
Passenger and staff overrides
Easily override the quantity of passengers and staff per booking.
Master rooming lists
Generate a master rooming list for all Accommodation suppliers using the Room Types and Room No. information in the Clients > Passengers table.
Passenger types
Assign a Type to your passengers e.g. Guide, Driver, Escort and include this information on Rooming lists and in Booking Emails to suppliers.
Passenger accounting sales export
Export individual passenger sales into your accounting software.
Tourwriter Groups is available to our Tourwriter Enterprise customers. Please contact your Customer Success Executive or the Support team if you would like to discuss upgrading your account.