Update Booking Quantities is a feature used for Group Itineraries, to update all booking items with the correct Quantities, based on how many Rooms have been sold.  It can be found in the Bookings List, Tools drop-down menu: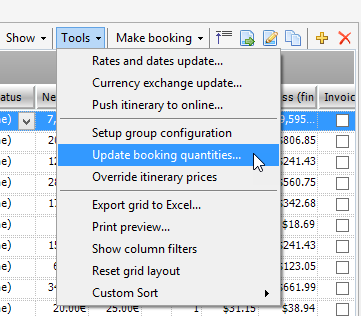 When to use Update Booking Quantities:
At Quote stage, the Quantities are set to 1, to help obtain the cost for 1 person travelling, twin/double share. Throughout the Group booking process, the number of passengers will change, and in order to hold rooms or make bookings with your suppliers, the correct Quantities need to be updated in the Bookings List. This is where the Update Booking Quantities feature comes into play.
How to use Update Booking Quantities:
To use this feature the Room Types table must be filled out. Go to the Clients Tab and update the Room Types table with your passenger information (for more information on how to do this please see Room Types). Update Booking Quantities will read from the Rms Bkd and Pax Bkd fields.
Next, go back to the Bookings List and select Update Booking Quantities from the Tools drop-down menu in the right-top corner.
The Updated Quantities Window will appear, as below, showing the bookings prior to the update. Please note the Updated Quantities Window only displays bookings sold on a per ROOM or per PAX basis, according to their Charge Type. Any service sold on a per GROUP basis (e.g. Coaches) will not be displayed in this window and therefore will need to be updated manually on the Bookings List.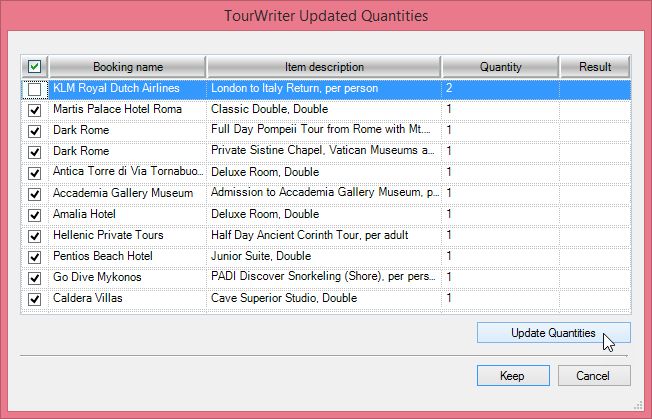 The KLM Royal Dutch Airlines Booking Line has been unticked, as it was added to the Itinerary with the correct quantities, so does not require updating (if left ticked, the number will also be updated e.g. Quantity is currently two, to update for two pax, the Quantity will become four).
After Update Quantities has been clicked, the bookings will be shown as below, with the new Quantities in the Quantity field.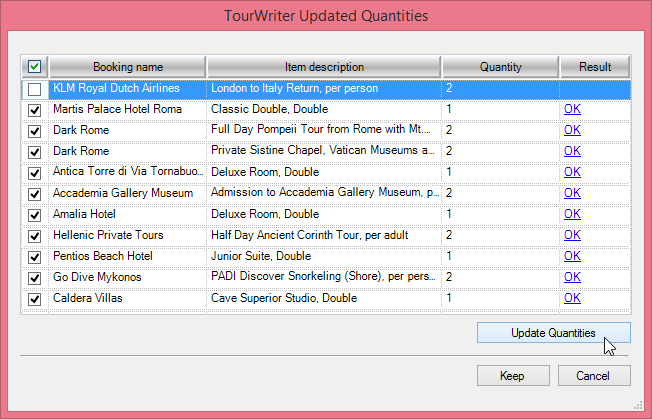 Click Keep, and the Qty field on your Bookings List will be updated. Make sure to Save.