The Itineraries section in Tourwriter is where users create and store information relating to a client's booking. This Guide should be used in conjunction with the Tourwriter Itineraries Training Videos.
Each Itinerary is split into four Tabs: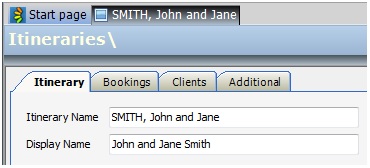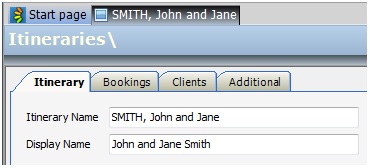 The main itinerary details such as name, arrival and departure information and agent details are entered on this tab.

How to Move Itinerary Dates
Tasks Work Space
Itinerary Information
Itinerary Start/End Information
Itinerary Additional Information
This is where supplier services are added and pricing is finalised for FIT bookings.
Group Quotes can also be created within the Quote tab.
Bookings Tab Overview
Making Bookings and Emailing Suppliers
Adding Bookings
Rental Car Bookings – Night/Day Calculations
Bookings List Tools Options
Bookings List Structure
Tourwriter Bookings Window
Making Amendments in the Bookings List Subtab
Sending Bookings Requests Via Tourwriter
Editing Itinerary Prices
Booking Tab Tips and Tricks
Splitting Bookings
Changing to a New Service/Option
How to Move Itinerary Dates
Updating Currencies in Itineraries
Booking Errors
Financials Overview
Gross Adjustments
Margin Adjustments
Right Click Function
Booking ID's Field
Booking Notes Subtab – Adding Notes (Quick Notes) to Bookings
Supplier Auto Confirmation
Lock the Final Sell Price
Additional Markup Container
Details Subtab – Including the following fields;
Pax override

– Used when you do not want to enter every passenger individually

Room types

– Used to record the type and number of rooms you have booked

Passengers

– Used to record the people travelling on the itinerary

Client payments and refunds

– Used to record all financial transactions with the client
Notes Subtab – Used to load any special notes (e.g. Allergies) regarding the client that you would like to include in your correspondence (e.g. Booking requests) with the Supplier.
Reports Subtab – Itinerary reports such as Client Pricing, Quotations, Final Itineraries and Vouchers. Double click any of these report names to open them.
Accounting Subtab – Data can be loaded and exported to your accounting software.
Itinerary Accounting Export
Messages Subtab – Messages sent to Suppliers via the Email Booking function will be stored here.