A new email booking request template is now available! This one is great for Activity bookings where you would like the End Time to be displayed in booking requests. It differs to the standard email booking request template (found here) where the End Time of the Activity will only show if the Nights field has been completed.
In this alternative email booking request, the Start Date, Time, and End Time will be shown on one line: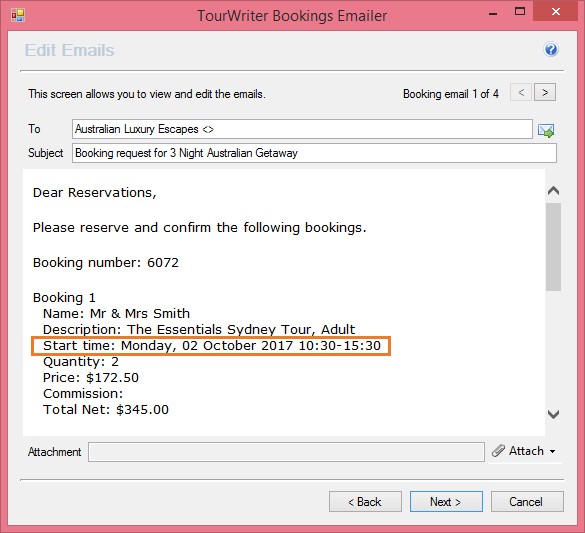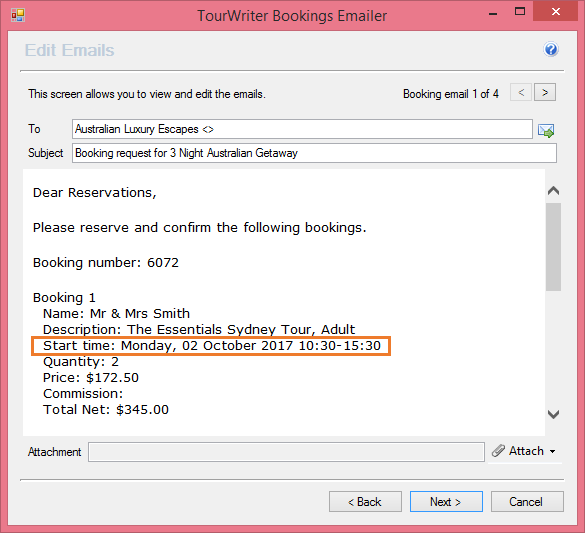 When using this template, we recommend loading it as an additional Booking Email Template (we've included steps on how to do this below), and using it when making bookings for same-day services such as Activity or Tour bookings only. Please note that we do not currently recommend using this template for other Service Types (e.g. Accommodation), as Check out dates will be displayed in the Check in line.
How to add an additional Booking Email Template
The Tourwriter Activities Booking Request email template is available to download from the following link:
Tourwriter.Email.BookingRequest.Activities.html
Download and Save the above .html template to your TourwriterData\Templates folder
Make any required edits by opening your Tourwriter.Email.BookingRequest.Activities.html in Notepad or a similar program. To do this, right click the .html file and select "Open With". If Notepad is not on the list, select "Choose Default Program", expand "Other Programs" and select Notepad from this list (visit this post for more information about email customisation).
Once your Activities template is saved, open an Itinerary in Tourwriter
Go to the Bookings > List Tab and click the Make booking drop-down
Select Add template…
The Add new template Window will open; enter a Name for the Template e.g. Activities. Click the to select the file in your TourwriterData\Templates folder. Click OK when finished.

This template will now show in the Make booking drop-down options, like the Activities example seen below:
Sending emails using the Activities template
Use the Book Selected option and the following tips to email your Suppliers for all Activity bookings at once:
Organise your Type field alphabetically by clicking the column heading once
Highlight all Activity bookings by clicking on the last Booking Item, holding down the SHIFT key, and clicking on the top Booking Item
Go to Make booking > Activities > Book selected…
Your highlighted Activity bookings will appear in the Bookings Emailer for you to review and Send
You can also use the CTRL key to select individual Bookings and repeat steps 3-4 above. Easy as!