The new Booking Type list provides a choice to add new fields throughout the Tourwriter application. There are four new Booking Type lists. The data loaded under each list appear as drop-down options in several sections within your app.
Extras is the first Booking Type list. The Extras list lets you categorise your Bookings into one of the four default options:
Pre Tour

Post Tour

Additional

Optional

.
Accessing the Default List Value
You can access the Booking Type list to view the List values available as drop-down options. To update categories to Extras's default list values:
Navigate to

Tools > Setup > Extras List

.
Note: You'll see the Booking Type 1 list configured as Extras. To configure the other three Booking Types, head to Booking Labels in the Setup area.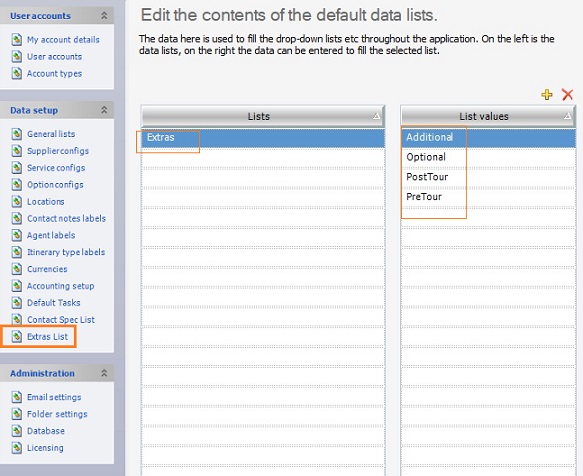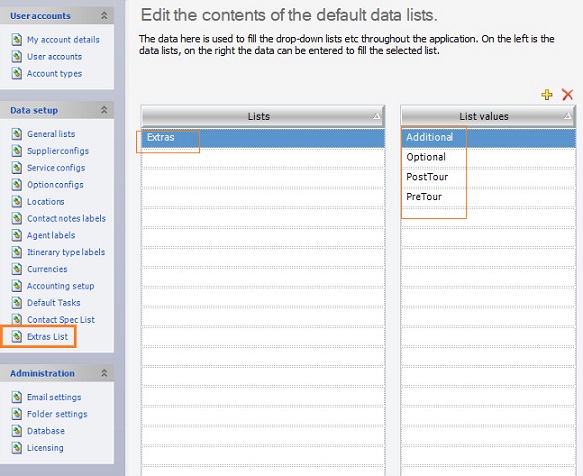 Categorising your Bookings
One of the places you'll see the Extras field is the Bookings List tab on an itinerary. To categorise your booking:
Open an itinerary and head to the

Bookings List

tab.

Enable the

Extras

field by selecting the Field Chooser

in the top left corner of the

Bookings List

tab.

Assign a relevant category to your booking from the drop-down menu.


Note: To personalise the fields you view in the Booking List Subtab select the Field Chooser

. To access the Extras field the first time, enable it through the Field Chooser.