In a Supplier click on the Additional Tab and then the Publishing Content Subtab. Click the

to add Publishing Content.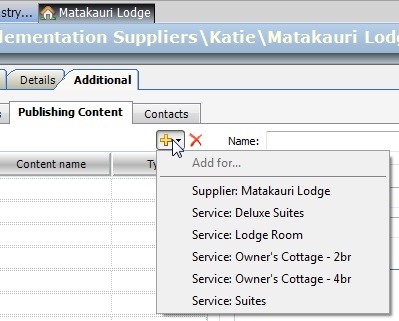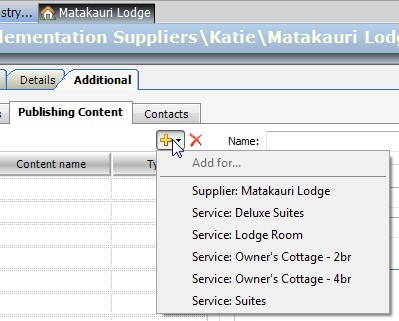 In the drop-down menu (seen in the image above), you will see a list of options based on the Services entered into your Tourwriter database for this Supplier (i.e. Matakauri Lodge).
Note: All Services, including non-active Services will be shown in this list.
Publishing Content can be entered for the Supplier (i.e. a description of Matakauri Lodge) or specifically for each Service within a Supplier.
The differences between these two options is detailed below:
Supplier Publishing Content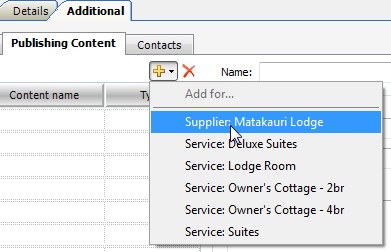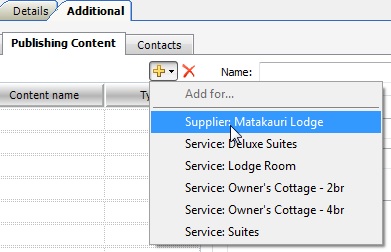 Choose the Supplier option to load Supplier Publishing Content. In the above image you would select Supplier: Matakauri Lodge
This option is perfect for providing an overview description of the Supplier. We recommend using this for Accommodation Suppliers as an overall description of the hotel and its facilities can be used for all room types (as opposed to loading Publishing Content for every room type).
Service Publishing Content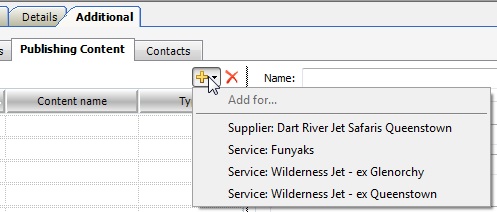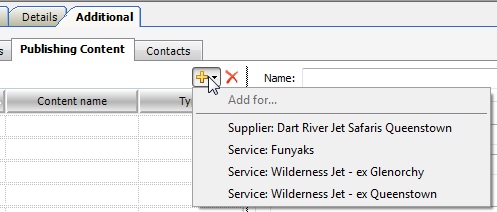 To load Service Publishing select the Service option that you wish to load the Service Publishing Content for, which in the above image is Service: Funyaks, Service: Wilderness Jet – ex Glenorchy and Service: Wilderness Jet – ex Queenstown.
This option is perfect for Suppliers with different Services that require specific Publishing Content.
Once you have selected what you want to load Publishing Content for (from the list), the Content Chooser pop-up window will open (see image below).
Here you have two options:
Create new Publishing Content by clicking the .

Select from the list of existing Publishing Content (i.e.Publishing Content that has been previously loaded into your Tourwriter database).
Notes:
The ContentName of your Publishing Content records needs to be clear if you wish to add this description to multiple Suppliers.
You can sort any of the fields in the Content chooser into alphabetical order by clicking the applicable field heading.