Error
System.IO.FileNotFoundException: Sql Cmd not found
at TourWriter.UserControls.DatabaseConnection.InstallHelper.GetSqlCmdPath() in c:\dev\Tourwriter.App\Tourwriter.Client\client\TourWriter\UserControls\DatabaseConnection\
InstallHelper.cs:line 158
at TourWriter.UserControls.DatabaseConnection.InstallDatabase.ActionStart() in c:\dev\Tourwriter.App\Tourwriter.Client\client\TourWriter\UserControls\DatabaseConnection\
InstallDatabase.cs:line 71
at TourWriter.UserControls.DatabaseConnection.InstallDatabase.OnLoad(Object sender, EventArgs e) in c:\dev\Tourwriter.App\Tourwriter.Client\client\TourWriter\UserControls\DatabaseConnection\
InstallDatabase.cs:line 39
at System.Windows.Forms.UserControl.OnLoad(EventArgs e)
at System.Windows.Forms.UserControl.OnCreateControl()
at System.Windows.Forms.Control.CreateControl(Boolean fIgnoreVisible)
at System.Windows.Forms.Control.CreateControl()
at System.Windows.Forms.Control.ControlCollection.Add(Control value)
at TourWriter.UserControls.DatabaseConnection.MainForm.LoadControl
(UserControl control) in c:\dev\Tourwriter.App\Tourwriter.Client\client\TourWriter\UserControls\
DatabaseConnection\MainForm.cs:line 42
at TourWriter.UserControls.DatabaseConnection.MainForm.GoTo(UserControl control) in c:\dev\Tourwriter.App\Tourwriter.Client\client\TourWriter\UserControls\DatabaseConnection\
MainForm.cs:line 72
at TourWriter.UserControls.DatabaseConnection.MainForm.GoNext() in c:\dev\Tourwriter.App\Tourwriter.Client\client\TourWriter\UserControls\DatabaseConnection\
MainForm.cs:line 54
at TourWriter.UserControls.DatabaseConnection.MainForm.OnNextClick(Object sender, EventArgs e) in c:\dev\Tourwriter.App\Tourwriter.Client\client\TourWriter\UserControls\DatabaseConnection\
MainForm.cs:line 82
at System.EventHandler.Invoke(Object sender, EventArgs e)
at System.Windows.Forms.Control.OnClick(EventArgs e)
at System.Windows.Forms.Button.OnClick(EventArgs e)
at System.Windows.Forms.Button.OnMouseUp(MouseEventArgs mevent)
at System.Windows.Forms.Control.WmMouseUp
(Message& m, MouseButtons button, Int32 clicks)
at System.Windows.Forms.Control.WndProc(Message& m)
at System.Windows.Forms.ButtonBase.WndProc(Message& m)
at System.Windows.Forms.Button.WndProc(Message& m)
at System.Windows.Forms.Control.ControlNativeWindow.OnMessage(Message& m)
at System.Windows.Forms.Control.ControlNativeWindow.WndProc(Message& m)
at System.Windows.Forms.NativeWindow.Callback(IntPtr hWnd, Int32 msg, IntPtr wparam, IntPtr lparam)
Resolution
To fix the issue, please follow the simple steps below:
Check which Windows system type you are using i.e. 32 bit or 64 bit. Follow the steps below if you are not aware of your Windows system type:
Click start and open Control Panel
Select System and Security
Select System. The System Type can be found here: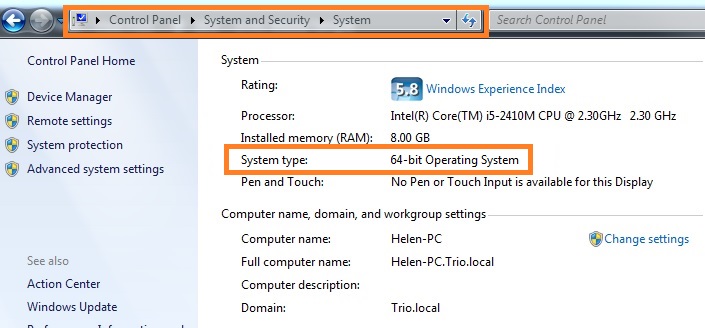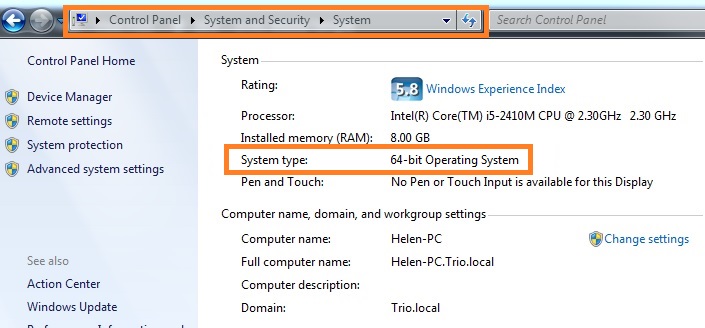 Next, download the appropriate SQL setup from Microsoft, using the links below:

Install the downloaded SQL setup and finish it with default options.
Open Tourwriter and start the office installation process again as normal. This time it should work.